Close Calls: How Eleven US Presidents Escaped from the Brink of Death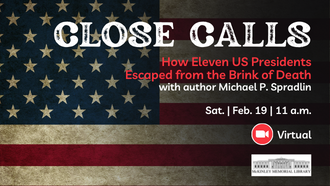 Lincoln, Garfield, McKinley, Kennedy—everyone knows about the presidents who were assassinated. But what about the presidents who faced down danger and lived to tell the tale? Drawing from his book of the same title, author Michael P. Spradlin will share the stories of these presidential mishaps. Adults and children are both welcome to attend this virtual event in celebration of Presidents' Day.
Please REGISTER HERE. 
Date
 -
Age group
All ages
Event type
History/McKinley
Location
Zoom